Beachwood Drive
Scenes from Beachwood Drive.
Beachwood Drive is shot on the street of Hollywood, California.
Beachwood Drive is an internet visual novel.
Trailer for the internet action packed drama Beachwood Drive. Directed by Harold B. Pritchett.
Baby Girl and Rip give Lucky a disc worth a lot of money. Kima and Felipe try to wire a bomb to Lucky's car. But Felipe has trouble understanding the instructions. Boom!
Felipe is awakening from a bad dream only to be told to find Lucky. When he does there is a shoot out in the alley near El Centro Avenue.
Rip tells Baby Girl how he feels about her and she shares a sexual secret with him.
Kima and Samantha find out that Exit lost the disk to Baby Girl.
Baby Girl is happy with herself after she stole a disk from Exit. She meets Rip and they plan to sell the disk to Lucky. Starring Steve Knight, Anna Gamble, Jason Williams, April Archer, Felipe Borges, Leigh Davis and Kuper Bank. Directed by Harold B. Pritchett.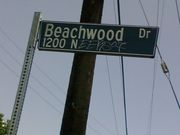 More on Beachwood Drive