About Neil Carr
Neil Carr
NEIL CARR
NEIL CARR, is a native of Los Angeles, California but was raised in Wilmington, Delaware. He is a 1998 graduate of Howard High School of Technology where he focused his education in television production. He later went on to pursue a Bachelors of Arts Degree from Delaware State University majoring in Television Production.
He currently wears several hats but still always finds his way back to his true love which are acting and the producing. He has graced the stages and sets of several projects and events since his humble beginnings. Neil has had leading roles in several productions such as "Through My Eyes" "Three Church Mothers and a Funeral" and "Strive". He showcased his talent in the hit play "The Dreamer" alongside the great talent Shirley Murdock and can bee seen playing the lead role in his latest motion picture project "Agape" which he stars in and co-produces.
Neil has not only made a name for himself in the acting community, he is fast becoming an industry favorite in the modeling and fashion world. He has been contracted to model for such events as "The Bronner Brother Fashion Showcase", "New York Urban Fashion Week", The Charlie Mack Celebrity Fashion Show" and "The Philadelphia Fashion Expo" to name a few. He is also an "official" model for the "Nostic" brand which is owned and operated by Jim Jones of The Diplomats and Family.
Neil has currently been making waves in the Philadelphia area after being voted one of the Delaware Valley's "Sexiest Singles". The contest was run by "The Philadelphia Daily News" and its sister website "philly.com". Talk about smokin! He also more recently did a spectacular "Monday Night Football" season opener promo alongside Donovan McNabb, Quarterback for the Philadelphia Eagles. Having been quite the football player in recent years, this was a once in a lifetime opportunity to still stay connected with his long lost love for playing. "Enjoy Life Magazine" says "Expect to see more of this rising star" in a recent interview with Neil published in the March issue of the publication.
Even as a motivated business man, Neil and partner David Jacobs still find time to operate "Bizznis First Production, Inc.". The duo will premier their debut DVD release early next year titled "Hood Boxing"
Currently Neil has also teamed up with Revolutionary Entertainment (www.revolutionaryentertainment.net), a group which focuses on the development of young talent in all aspects of the entertainment field and together they are making great strives toward "perfection".
Neil can be serious when required but at the same time he knows how to have a good time. He has hosted numerous events for celebrities such as Bobby Valentino, Remy Ma, Calvin Richardson, K-Ci & Jojo of Jodeci, and even VH-l's open casting call for "The Flavor of Love" Season 3 and now he comes back home to Delaware State University. Neil will be hosting the Delaware State University "Alumni Gala".
Links to
Neil Carr
http://enjoylifenews.com/bookstore.htm
http://www.revolutionaryentertainment.net/photos.html
http://pdn.philly.com/photo/slide_shows/sexy2007/carr/index.html
http://www.philly.com/philly/entertainment/sexy_singles/8623577.html
http://www.enjoylifemagazineonline.com/bigscreentv.htm
Neil Carr as Eric Printer in "AGAPE"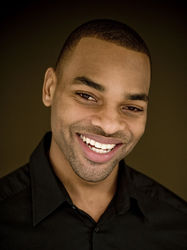 "Agape" - - Coming 2008
Links to Neil Carr